Oct 16, 2023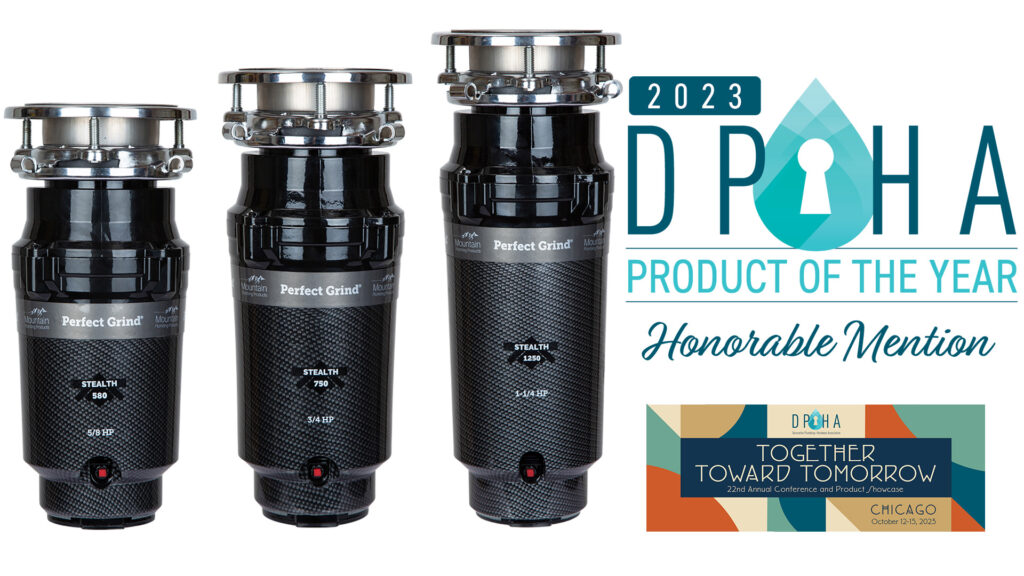 Mountain Plumbing Products Receives Award at DPHA's 2023 Conference & Product Showcase in Chicago
We are very proud to announce that our STEALTH Waste Disposer with STEALTHTRAP was awarded the "Product of the Year – Honorable Mention" in the "Kitchen Fixture" category by the Decorative Plumbing & Hardware Association (DPHA). We are honored to receive this recognition for the development of our new line of space-saving waste disposers that come with an accompanying trap.
Knowing that storage space is at a premium in the kitchen, our goal was to design a disposer that took up less space in the cabinet, but never sacrificed on power. The STEALTH Series of disposers have more power and torque, with a 41% smaller footprint under the sink compared to the leading competition. To further maximize on the usable space under the sink, every STEALTH disposer also includes a complimentary STEALTHTRAP. This specially designed trap includes everything needed to hook up a single bowl or double bowl kitchen sink, and then connect to the garbage disposer.
We are grateful for the opportunity to share the benefits of the STEALTH Waste Disposers and demonstrate how space savings and high-performance and can be achieved at the same time. This product brings superior functionality to a kitchen appliance you use every day, but often never think about. Now it's time for you to discover what makes this product so special… and the best part… all STEALTH Waste Disposers are backed by a Lifetime Warranty!
Schedule an In-Person STEALTH Waste Disposer Demonstration Today
Our Regional Sales Managers and Territory Reps are ready to show you all the features and benefits of the STEALTH Waste Disposers! These disposers provide an opportunity to "complete the sale" by helping to ensure your customer is completely satisfied with their kitchen sink and faucet purchase. They will receive a superior product and immediately upgrade their meal prep routine. And with the included STEALTHTRAP, even more cabinet storage can be found!
The STEALTH Waste Disposer is a product that is a natural fit to be placed on orders, and when you describe all of its benefits, it is an obvious choice over the competition.
Please CONTACT US today to learn more about stocking the STEALTH and STEALTHTRAP in your showroom and make sure you can offer one with every new kitchen sink that is ordered!
In stock and ready to ship for you to provide customers the space-saving, high-performing STEALTH Waste Disposer whenever they purchase a kitchen sink!