Feb 22, 2021
Little Gourmet® Instant Hot Water Tank – Installation Video
Mountain Plumbing Products is excited to share the new installation video for our Little Gourmet® Instant Hot Water Tank! Have you ever thought about how often you use hot water or the time you spend waiting for it to heat up? Just imagine having piping hot water in an elegant, modern fixture right at your fingertips. With The Little Gourmet®, you can spend less time waiting and more time cooking, and therefore, more time living.
The Little Gourmet® heating unit hides underneath your sink cabinet, while the fixture of your choice adds personality and ambiance to your perfect kitchen space. Whatever your taste, there is a faucet and finish to match beautifully with the rest of your kitchen – one that can provide the hot water feature you will wonder how you ever got along without. With a myriad of uses, and hot water available in an instant, life just got easier with The Little Gourmet®.
This video presents step by step instructions needed to install the Little Gourmet® Hot Water Tank (model number MT641-3) onto a kitchen sink. We will also be utilizing a Mountain Plumbing Hot and Cold Accessory Faucet as our choice for above the sink connection. Also note that the instant hot tank must be connected to an open vent faucet. Using the tank with an incompatible faucet will damage the tank and void the warranty. Contact the faucet manufacturer to verify compatibility.
Use this as a resource and see how easy it is to install the Little Gourmet® Instant Hot Water Tank. If you have any further questions please refer to the instruction manual, contact our customer service department, or visit the resources section of our website. Thank you for watching our installation video and adding this latest innovation from Mountain Plumbing Products to your kitchen!
View Little Gourmet® Instant Hot Water Tank
Uses for The Little Gourmet®:
Boil Water Faster – Starting off with Little Gourmet hot water will lead to quicker boiling water
Instant Water for Tea & Coffee – Quickly and easily make the perfect cup
Clean Stubborn Stuck-on Messes – Difficult to clean dishes and utensils become easy with the cleaning power of instant hot water at your fingertips
Warm Baby Food and Bottles – Little Gourmet hot water can quickly and safely warm baby food and bottles
Loosen Jar Lids – Place the top of a jar briefly under the Little Gourmet to aid in removing difficult to open jar lids
First Aid – Use Little Gourmet hot water to create a hot compress for quick pain relief
Remove Labels from Bottles – A quick run under Little Gourmet hot water will remove labels and residue
Remove Wax – Instant hot water from the Little Gourmet is perfect for removing wax from candle holders
Melt Chocolate – Quickly create a double boiler with the Little Gourmet hot water to melt chocolate to perfection
Warm Cooking Utensils – Use the Little Gourmet to warm beaters for creaming butter, a knife for cutting cheeses, or for ice cream scoops
Please SCAN Our QR CODE For Quick Access to the Installation Video!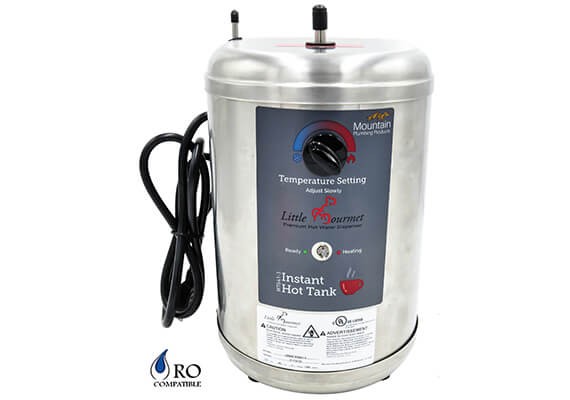 MT641-3
Reverse Osmosis Compatible: includes stainless steel inlet, stainless steel heating coil, and stainless steel tank
1300w Power: compared to 750w for Insinkerator
Energy Efficient: uses less energy than a 40w light bulb
2.5 Quart Tank Size: equivalent to 5/8 gallon
3 Year Warranty
Indicator Light
Stainless Steel Housing
Sensor Prevents Dry Start-Up
Provides 190 Degree Water Instantly
The Little Gourmet® hot water tank provides 60 cups of 190 degree water per hour – instant hot water for all your cooking needs is right at your fingertips!
Download Technical Specifications
Download Installation Instructions