Sep 30, 2023
With Every Purchase of a STEALTH Waste Disposer, Customers Receive a FREE Space-Saving STEALTHTRAP!
Mountain Plumbing wants to make sure customers maximize their space savings under the kitchen sink so every STEALTH Disposer model includes a complimentary STEALTHTRAP. This product directs the plumbing to that back of the cabinet when orientating the disposer discharge tube properly. By moving the connection piping in this way, customers can save vital storage space under the kitchen sink.
The kit includes everything needed to hook up a single bowl or double bowl kitchen sink and then connect to a garbage disposer. Please see the instructions for diagrams on proper STEALTHTRAP installation to get the most space savings possible. We hope that something so simple enhances your entire kitchen design!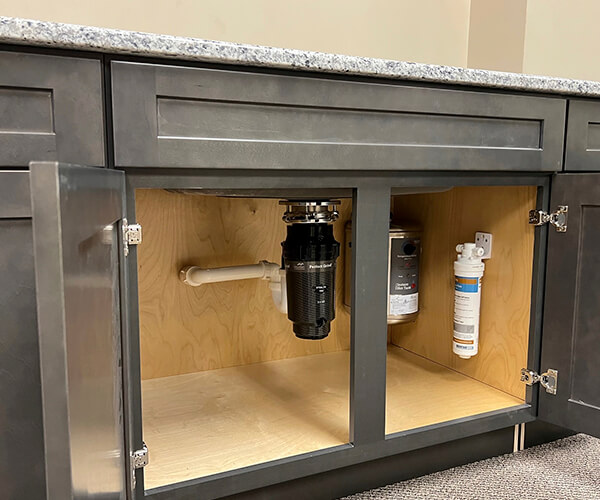 Single Bowl Installation
This side view of a Single Bowl installation shows the plumbing at the back. Ample storage space has been created within the kitchen cabinet.
Double Bowl Installation
The included T-Connection allows for double bowl installation. Again, even with extra piping, everything stays on the back wall.
Top Down View
When viewing from above, you can see how the STEALTHTRAP keeps the discharge tube pointing at the back of the cabinet.
Room for Multiple Appliances
Combining the STEALTH Disposer with STEALTHTRAP, multiple water appliance options can now be added with the freed-up cabinet space.
STEALTHTRAP Instructions
Please click below to download our installation sheet for the STEALTHTRAP. By properly installing the STEALTHTRAP you can gain the maximum space savings under your kitchen sink.
The STEALTHTRAP kit comes with all of the parts necessary for installing a STEALTH Disposer on both single bowl and double bowl kitchen sinks. Review the instructions to see diagrams for the proper installation of both applications.
Download Installation Instructions
STEALTHTRAP Included with Every STEALTH Waste Disposer Purchase
STEALTH Series Waste Disposers